How to find us from downtown Ensenada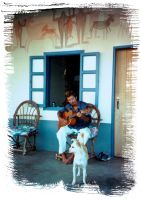 If you take the bus all the way in to Ensenada, you will arrive at one of 3 bus stations. The "Aragon" bus line has its own station. The "ABC" bus line has 2: the main station on Calle Riveroll and a secondary station on Calle 6.
From this downtown area, you will need to catch a "micro", one of the small local buses, which will take you to El Sauzal where the hostel is located.
The Aragon station and the ABC main station are both on Calle Riveroll. The place where you catch a micro is on Calle Miramar. From either station, walk over to Calle Miramar and down that street a few blocks (towards the harbor and the giant flagpole). Look for a store on called "Milano" the left side of the street. There will be lots of small yellow buses coming and going. Get on the one that says "El Sauzal". It costs 5 pesos or $.55 US.
If you are dropped off at the secondary ABC bus station, you can see on the map that you are even closer to the micros.
On the El Sauzal micro, you will backtrack along the main highway you came in on for about 6 miles. Use this map to watch for landmarks as you approach El Sauzal. When you see the long blue warehouse and the traffic light say "Aqui, por favor" (aqui is pronounced "a key"). The hostel is only a few blocks from here.
Problems? Call us at 174-6381